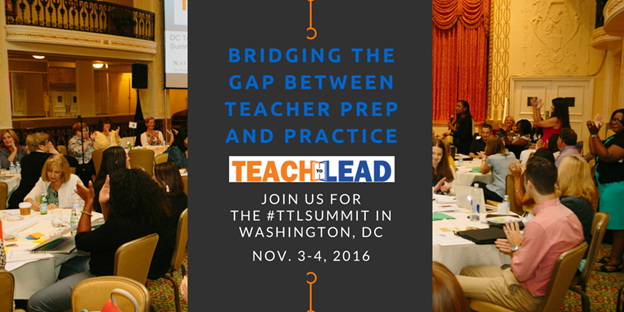 There has never been a more important time than now to capitalize on the relationships between institutions of higher education, current enrollees in their teacher preparation programs, alumni now serving as classroom teachers, and the districts in which these teachers work.
To promote these collaborations and to provide a space for these educators to develop their best ideas, Teach to Lead is now accepting idea submissions for its next summit focused on the intersection between teacher prep programs at institutions of higher education and teacher alumni currently in the classroom in Washington, D.C from November 3-4, 2016. 
Teachers and institutions of higher education (IHEs) are welcome to apply. IHEs must identify and collaborate with alumni teachers to develop an idea proposal which addresses a current area of growth or problem of practice within their teacher preparation program.  The IHE and alumni teachers will partner to identify a team to work on the proposal. These teams will be comprised of 4-5 individuals including: at least one in-service classroom teacher leader alumni of their teacher preparation program, 1-2 teacher candidates currently enrolled in the program, 1-2 teacher prep program faculty members, and 1 local school district representative.  Alumni teachers will submit the idea proposal on behalf of the team. The deadline for idea submissions for the Teacher Prep Summit is 11:59 pm ET September 6, 2016.
Idea submissions will be reviewed by a team of teachers. For those who receive an invitation to participate, registration, lodging for those traveling over 50 miles, and some meals are provided free of charge. Participants must cover their own travel costs. 
More information:
Teacher leaders may submit ideas to participate in the summit online using the this link: https://www.surveymonkey.com/r/TeacherPrepSubmission
Institutions of Higher Education may submit ideas as long as they do so in partnership with a teacher leader.
Potential participants are welcome to submit ideas as a team (teachers, principals, administrators, school board members etc.). 
There is no registration cost for the summit, and lodging is provided at no cost to participants living more than 50 miles from the Summit hotel. We provide breakfast and lunch.
Participants must pay their own travel costs.
Some organizations assist their members financially to defray the cost of travel.
Some organizations assist their members by providing guidance on submitting their idea.