Educational STEM Games for Students
We offer free Smithsonian STEM games online or for download! Our games are designed with clear learning objectives, vetted by our team of curriculum experts, and are used by students around the world!
Shutterbugs: Wiggle and Stomp
Kindergarten | Physical Science
Lions! Pandas! Naked mole rats? Come visit them all at Smithsonian's National Zoo. We are on the lookout for animals that are swimming, running, wiggling, and stomping. Grab a camera and take some pictures of animals on the move! Shutterbugs teaches students how to describe movement and motion while visiting rare animals at the Smithsonian National Zoological Park. Each animal has coloring-page printouts, so you can print and color your favorite critter.
Tami's Tower: Let's Think About Engineering
Grades K-2 | Engineering Design
It's lunch time and Tami, the golden lion tamarin, is hungry! Help Tami reach the delicious fruit by building a tower. But watch out! Other animals can cause Tami's tower to topple over. Tami's Tower: Let's Think About Engineering is an educational engineering design game that will help teach your student how to design a solution to a problem using basic engineering design principles.
Showbiz Safari
Grades 1-3 | Life Science
Lights! Camera! Action! Our movie director needs your help! Help Walrus pick actors based on the traits that best fit the movie role. Which furry mammal will get the most wanted role in the blockbuster film "Paws"? Which water loving actor will get the leading role in "Swimmin' in the Rain"? We need your help to find out! Showbiz Safari is an educational life science game that will help teach your student about the diversity of plants and animals in different habitats.
Morphy!
Grades 3-5 | Life Science
Morphy and his fellow alien crew have crash-landed on a foreign planet! His crewmembers evacuated at different times and are now missing. Help Morphy locate the crew members so that they can repair their spaceship. Beware! Morphy can't survive this planet on his own. Along the way, Morphy will meet creatures with external traits that will help him survive this strange new world. Guide Morphy throughout this journey to save the missing crew! Morphy is a life science game that teaches students that animals have external structures that function to support survival and behavior. 
Habitats
Grades 3-5 | Life Science
Do you know where the red-eyed tree frog calls home? Play this game based on animal habitats to learn! Explore the desert, coral reef, jungle, and marsh to discover where many animals live by matching each animal to their correct habitat!
Aquation: The Freshwater Access Game
Grade 5 | Earth Science
Choice, strategy, balance, and . . . water equity? Parts of the planet are struggling to get enough water. Use each region's wealth to build pipes, desalinate water, and conduct research to bring water where it's needed most. Monsoons, dry spells, disease, and even cursed lawn sprinklers can help or hinder your progress. Manage your wealth and water carefully to solve the world's water crisis!
Pick Your Plate! A Global Guide to Nutrition
Grades 4-8 | Nutrition
Travel around the world with Plato to learn about building healthy meals. Eat avocado toast in Australia, baobab fruit in Benin, and sautéed reindeer in Finland! Yum! Pick your favorite plates for morning, midday, and evening meals. Be sure to meet your daily nutritional needs while not going over your budget! Pick Your Plate! A Global Guide to Nutrition is an educational nutrition game that will help teach students about building healthy meals while using nutritional guidelines from countries around the world!
BumperDucks
Middle School | Physical Science
These ducks need your help! Help them reach tasty treats across the pond, but watch out for obstacles! Turtles, frogs, and logs will try and knock you off course. It isn't easy, but pond friends are there to help! Think you're up for the challenge? BumperDucks is an educational physical science game that will help teach players about what happens when two objects collide and how mass impacts the acceleration of an object.
Disaster Detector
Middle School | Earth Science
The citizens of Smithsonville are in dire need of a Disaster Detector! Help Smithsonville and other cities predict and prepare for natural disasters. Use tools to make predictions and save the city from damage by helping citizens prepare properly. Are you up for the challenge? Disaster Detector teaches players how to analyze and interpret data on natural hazards to forecast future catastrophic events and how to implement tools to mitigate the effects of those disasters.
Weather Lab
Middle School | Earth Science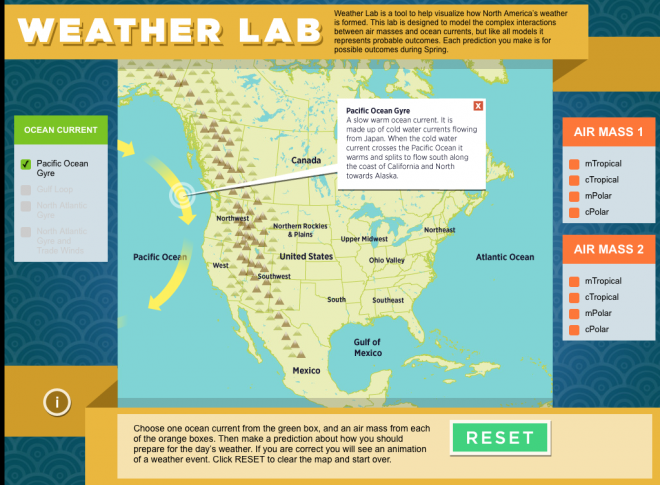 What happens when ocean currents and air masses interact? Find out in Weather Lab! Take on the role of a meteorologist by predicting spring weather and how people should dress for it in particular regions of the United States. Weather Lab is a tool to help visualize how North America's weather is formed. This lab is designed to model the complex interactions between air masses and ocean currents, but like all models it represents probable outcomes. Each prediction you make is for possible outcomes during Spring.